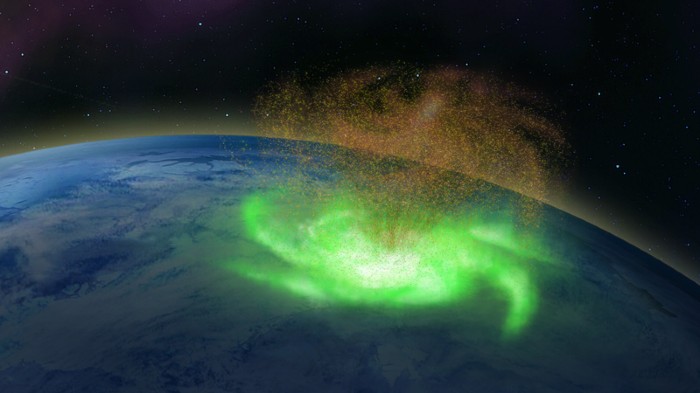 Satellite observations have revealed an unprecedented 'space hurricane' in Earth's upper atmosphere, hinting that such events could occur on other planetary bodies.
Scientists have previously documented hurricanes in the lower atmospheres of Mars, Jupiter and Saturn. Similar phenomena have even been spotted on the Sun. But the existence of space hurricanes — hurricane-like circulation patterns in planets' upper atmospheres — has been uncertain.
Qing-He Zhang at Shandong University in China and his colleagues used satellite data to identify a space hurricane over Earth's northern magnetic pole. The event was a whirling pattern not in air, but in plasma — ionized gas that is found throughout the Solar System, including in Earth's upper atmosphere. Like its more mundane counterparts, the space hurricane had a quiet centre, multiple spiral arms and widespread circulation. It also featured precipitation, but of energetic electrons rather than water droplets.
The authors found that a 3D model could reproduce the event's main features and explained its formation. Space hurricanes might be universal phenomena at planetary bodies with magnetic fields and plasma across the Universe.